It's such a chore to find good books sometimes. I fancy myself a dedicated reader, but the world seems to be working against me sometimes. I scroll through Goodreads and Amazon looking at recommendations for books to pick up next. I spent some time writing jacket copy and press releases so I know a little of what goes into selling a book to the masses you hope to pick it up. I also know that it's not always what that book will actually look like once you open it, and that's been my curse for the past few years. Promising titles with thrilling descriptions are added to my long To Be Read list, only to be abandoned once I pick them up and find that descriptions of complex and fascinating characters, or a heartwrenching romance or a fully fleshed world that leaps off the page, are false. I've developed the habit of quickly dropping books that don't live up to their hype. Who has the time to invest in hundreds of pages of writing that is simply unappealing? I've dropped more books than I've finished, which makes accomplishing my yearly reading goals difficult, but it's become so rare for me to find even a single book that really grips me let alone two, in the same week. Susan Dennard's Truthwitch and Alexandra Bracken's Passenger were two books that ended up on my To Be Read List long before their release dates last Tuesday, and neither one disappointed.
In Truthwitch Safiya and Iseult are Threadsisters, bound by a connection forged when Iseult saved her life as children. The Witchlands, ruled by three empires soon to resume their war, are populated by those with the power of "witchery". Among witches with powers of air, fire, earth, water and void, Safiya is a rare Truthwitch and able to tell the truth from a lie. Her ability makes her an attractive commodity to the warring empires, and she hides her gift accordingly. Iseult is a Threadwitch and can see the invisible connections and moods among people. An outcast in the Witchlands, she and Safi travel together hoping to find a place of their own to settle. The world itself is lacking, despite the large number of witches we meet. We get a vague sense of a temporary truce and its coming end, but there are only hints of the wider world beyond where Safi and Iseult are presently. The hints we get are interesting (like the young Empress of Martok who fights in the field, and Bloodwitch Aeduan's past with the rest of the monks), but are only hints. The book's main benefit is its focus on Safi and Iseult's friendship.
Safi and Iseult want only to live their own lives, but their plans of doing so are interrupted when their book opening holdup goes wrong. Their bond is a strong one, and their connection to one another is refreshing after seeing so many female relationships end up on the backburner just about everywhere, including YA fiction where heterosexual romance usually occupies the forefont. That being said, I wish we'd gotten to see more of Safi and Iseult's interactions before they're separated and thrust into the book's main plot. That would have given us a better sense of where they are before they're suddenly fighting for their lives, fleeing a vengeful Aeduan and the warring empires looking to use Safi for their own gain. It's an action-oriented book, with few lagging moments. The constant feeling of forward momentum makes it an extremely exciting read.
Safi is supposed to be impulsive and hotheaded, and she may be, but it's nearly impossible to trace the threads of her decision making. She's inexplicably enraged by Merik intervening when a witch begins to Cleave (despite jumping in herself) and will later flee safety for no clear reason. We're meant to see how she changes throughout the novel, and we do, but it would have been nice to have a clearer sense of what drove her so her growth wouldn't have felt so flimsy. Her backstory is the least compelling of any of the characters, except perhaps Merik who, besides having a petty and ambitious sister, doesn't have much going for him either. Their romance is equally tepid, and its Iseult who sells most of the book for me.
Iseult is Nomatsi, drawing derision from most people in the Witchlands. She's routinely hiding identifying markers lest she be accosted in the streets for her different appearance. The time spent with her mother and her apprentice back in her tribe are some of the most interesting passages, but are also short, and I was sad when she had to leave to reunite with Safi. She has the makings of her own compelling story, with an attempt made on her life and some interesting things happening with her bloodscent, but whatever her story is set aside in favor of Safi's, which is to be expected in a title called Truthwitch, but is no less disappointing. It's difficult to tell if Dennard plans on making Iseult and Bloodwitch Aeduan a flirtationship in the next installment, but in the couple of interactions they have they are extremely enjoyable, and I'm looking forward to Windwitch, to be released next year.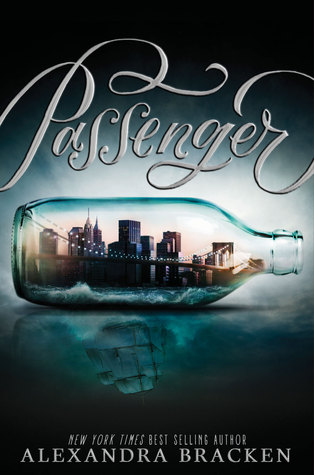 Bracken's Passenger is a sprawling tale that hops time zones and time periods, as promising violinist Etta Spencer is torn from the present day and transported to a ship in the seventeenth century, captained by Nicholas Carter. Nicholas is a freeman still grappling with the world's prejudices despite his freedom. A ship of his own, with a crew who admires him, is the only way for him to gain control over his life, wresting it from the Ironwoods, the powerful Traveler (and white) family he's born into. He's immediately interesting, and his motivations are clear. Etta's motives are equally discernable, but her character is harder to parse. We're introduced to one version of her — introverted, reserved and with some difficulty forming interpersonal connections–and soon get another who's charming, disarming and slapping people in the face. Unfortunately both Nicholas and Etta's characters are muddied when their romance kicks off.
In cases of an instantaneous love like theirs it's easier to just accept it and run with it rather than try to trace it logically. That's the only way to proceed through Passenger where it's love at first sight for Nicholas and Etta, and their speedy attachment to one another nearly consumes the rest of the story. It's certainly meant to be a romance as well as time-traveling adventure, though it's difficult to hop on board  the love boat determinedly as Nicholas and Etta. Etta's going to eventually return home, and Nicholas balks at accompanying her forward in time. It's all very dramatic, but only for them, and I'm left wondering what the big deal is. For such a boring romance, they really wrung all the angst they could out of their rather fixable problem. The book is already close to 500 pages and could have been significantly shorter with fewer musings from Etta and Nicholas about their apparently impossible relationship. Despite the issues with Nicholas and Etta as NicholasandEtta, Passenger has some really remarkable supporting characters. Sophia, ambitious and self-serving but limited by her womanhood in the time period in which she's trapped. By book's end we've learned several secrets about Etta's mother, Rose. One of them is particularly shocking, and makes me all the more ready for the conclusion Wayfarer.
Regardless of that last paragraph, Passenger is definitely worth the read. Nicholas and Etta's romance is fine once you get over the quickness of it, and the world and mythology of the travelers is detailed and interesting. When reading about the Travelers, their conflicts with the Thorns and catching hints of Etta's mom and her past, I really appreciated the book's length. To get home Etta must find a device called an astrolabe for the Ironwood patriarch, and hers and Nicholas' search takes them from London to Angkor to Damascus. The rules of time travel and the intricate history of the travelers is woven throughout very elegantly considering how complicated it all is, and there's certainly a great deal of research that Bracken put in to covering Etta and Nicholas' time travel.
Find more of my thoughts on YA lit here.